Using Your Card at Home and Abroad
Automated Teller Machine (ATM) Cash Withdrawals
You may use your card to withdraw cash at any participating ATM displaying the Visa logo. Cash will be dispensed in the local currency and if this is different from the currency of your card, it will be charged to your account at the appropriate rate of exchange together with the percentage charge for the conversion.
Balance Enquiries
You can enquire about the balance of your current account at participating ATMs displaying the Visa logo. Balance enquiries displayed may vary depending on the type and location of participating ATMs.
Point of Sale (POS)/Purchases
You may use your card when paying for purchases in shops, hotels or restaurants that display the Visa logo.
In circumstances or countries where Chip and PIN transaction processing is not available, the transaction may be processed manually and you will be asked to check and sign a transaction slip/sales voucher.
Contactless Payment
You can use your card throughout the UK to make contactless payments of up to £30 at any retailer displaying the contactless symbol

.
You can simply tap your card at the contactless reader to pay for coffee, newspapers, sandwiches and other low value items at participating retailers.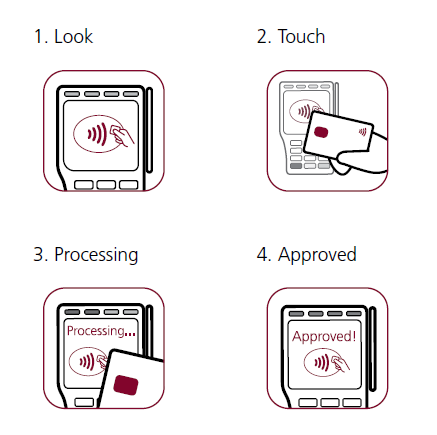 You must complete a Chip and PIN transaction before making your first contactless purchase. For extra security, you may occasionally be asked to enter your PIN when making a contactless card payment thereafter.
Cashbacks
When you pay with your card in the UK, many shops and supermarkets may also offer you a cashback option free of charge. The maximum amount of cashback is determined by the retailer.
Shopping Online, by Mail and by Phone
You may use your card to order goods and services online, by mail or over the phone. To enhance the security of your online purchases and to protect against fraud, you will need to register for Verified by Visa. Registration for Verified by Visa is free and you will be prompted to register when you make an online purchase at participating retailers. After you have entered your payment details, the retailer will present you with a "Card Authentication" screen, which will display a window with BEA logo asking you to register your card for the Verified by Visa service. Just follow the onscreen instructions to complete the registration.
You can find more information about Verified by Visa and details of participating retailers by visiting http://www.visaeurope.com.
| | | |
| --- | --- | --- |
| How to Contact Us | | |
| General Card Enquiries | | Lost or Stolen Cards |
| Call +44(0)20 7208 3818 | | Call +44(0)20 7208 3809 |
| Lines are open 9am to 5pm Monday to Friday, except Bank Holidays | | Lines are open 24 hours a day, 7 days a week |
| | | |
| | | |